Krishi Vigyan Kendra, Bhadrak
Bhadrak subdivision of the undivided Balasore district became a new district on 1st April 1993 vide Revenue Department Notification No. DRC-44/93.14218/R dated 27th March 1993 of Government Odisha
Bhadrak having a rich heritage and history derives its name as legend has it, from the Goddess Bhadrakali whose temple stands on the bank of the river Salandi. This district is bounded by Balasore district in the north, Jajpur district and river Baitarani is in the south, Keonjhar district is in the west and Bay of Bengal and Kendrapada district is in the east. With a population of 13,32,000 as per provisional figure of 2001 census. A number of deltaic rivers viz. Salandi, Baitarani, Kansabansa,Gamol, Mantei, Genguti, Kochila, Reba and Kapali pass through and around the District.
District Agriculture at A Glance
Agro Climatic Zone

North East Coastal Plain zone

Agro Ecological Situation

Alluvial Canal Irrigated
Low Lying Flood Prone
Saline Soil Group

Geographical Area (ha)

2,70,164

Cultivable Land (ha)

1,76,000

Cropping Intensity

132%

Irrigated Area

Kharif

65%

Rabi

20%

Total Freshwater Area (ha)

4384

Freshwater Pisciculture water area (ha)

3848

Total Brackish Water Area (ha)

4027

Brackish water Pisciculture water area (ha)

2200

Coastline (Km)

50

Farmers

Small & Marginal - 82%

Avg. Land Holding (ha)

1.19

Climatic vulnerable blocks

Chandbali - Cyclone, Flood and Drought

Dhamnagar and Tihidi - Cyclone, Flood

Major Crops

Rice, Blackgram, Greengram, Mustard, Sunflower, Sesame, Jute, Vegetable crops & Fruit crops

Major Enterprises

Pisciculture, Dairy, Poultry, Mushroom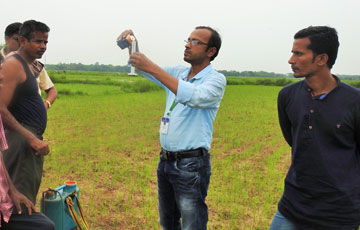 Dr Aurovinda Das working as Sr Scientist & Head in various KVKs under OUAT, Bhubaneswar since 2011. He started his profession career when joined as Asst. Professor in Agronomy in College of Agriculture, Bhubaneswar (OUAT) in 2005. He obtained his M.Sc (Agronomy) and Ph.D (Agronomy) from IARI, New Delhi. He has teaching, research and extension experience in the field of agronomy, Soil Science and allied sciences. Contributed significantly in promotion of pertinent technologies through KVK viz. resource conservation technology such as zero till in mustard, mechanized direct seeded rice, mechanical transplanted rice, rice fallow technology, weed and fertilizer management in field crops etc. Under his leadership KVK, Bhadrak received Best KVK Award 2016-17 at state level and Zonal Best KVK Award 2017-18 for the ICAR Zone V.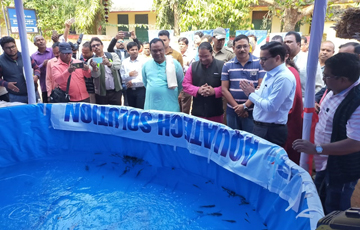 Double Gold Medalist (B.F.Sc-1992 & M.F.Sc(Aquaculture)-1995)- Mr. Ambika Prasad Nayak stood First in all India ICAR-JRF examination(1992). More than 23years of experience in fish and fish seed production - as technical officer in shrimp hatcheries of Andhra Pradesh and Odisha from 1995 to 1998, from 1998 to 2005 as a officer with different capacities in the Fisheries department, Govt. of Odisha & From 2005 working as a Scientist(Fishery Sc.) in KVK, Bhadrak. He is a pioneer worker in standardizing multiple cropping pattern in pisciculture and year-round production of stunted fingerlings and yearlings.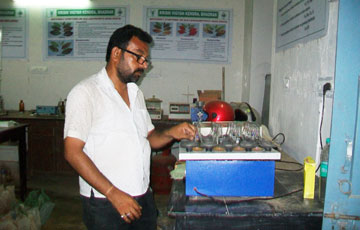 University of Agriculture & Technology, Kumar Ganj, Faizabad, Uttar Pradesh in the year 1998, M.Sc. (Ag.) in Soil Science & Agril. Chemistry in the year 2000 at Banaras Hindu University, Senior Research Fellow in the ICAR (NATP) sponsored project from April, 2002 to June, 2004 and Ph.D. (Soil Science & Agril. Chemistry) in 2003 at Banaras Hindu University, Qualified in National Eligibility Test in Soil Science - Soil Chemistry/Fertility/Microbiology conducted by Agricultural Scientists Recruitment Board (ICAR), New Delhi- Dr. Debiprasad Dash having experiences of development of organic projects, certification process along with technical guidance to various companies and organization from 2004 to 2009, from 2009 to 2014 worked as Scientist (Soil Science) in KVK, Balasore and from 2014 onwards continuing in the same position at KVK, Bhadrak. He gives more emphasis on recycling of locally available wastes, use of biofertilizer, green manuring to restore soil health.
Kisan

Mobile Advisory Service